Skip Navigation
Website Accessibility
Call for information regarding upcoming classes.
The studio will be closing its doors soon and we will honor pre-paid classes.


Current Classes and Events
Mosaic Necklace Events
See the Class Calendar for upcoming dates (Only offerings MIGHT be Jan/Feb 2024 - please request a class that fits into your schedule)
Want your group to do pendants? Just ask for a special class date/time

The Mosaic Pendant Classes are scheduled often throughout the year. Check the Calendar for more information.

Signing up online is

required

to save your seat.



Spend time with your daughters, moms, grandmas, dads, grandpas and friends making mosaic necklaces. The studio encourages anyone 5 and older to join us in the fun of learning how to create a mosaic necklace. A variety of pendant blanks will be provided. Each student will choose 2 pendants and choose from multiple items in the studio to create their jewelry masterpiece! All materials will be included in the class purchase price. Discounts and coupons are not available for class purchases. A maximum of 2 necklaces will be created per student during the event. The start time is mandatory as there will be a 2-hour period for the event. Necklaces will remain at the studio for grouting and students will pick up their necklaces 10-14 days after glue is dry and grouting is completed.
*****************************************************************
3 Week Class
example 3-week class offering: Christmas Design in Mosaic
In the Christmas class, there are a few shapes you can choose other than Santa. 2 angel choices, a stocking, snowman and more. Each student chooses which shape they'd like to do for the class. This class is the more advanced class from the "beginner" lesson I offer for free. In this class, we learn cutting techniques and a bit of design.
If you or your friends can't make the times above for the classes that are already scheduled, I would be happy to discuss setting up a class for your group based upon your desired dates/times.
This is a 3 week class. Start on the 1st day, then attend the following two workshop days/nights.
Sign up online to reserve your seat! www.bellamosaica.com go to the studio Calendar page and click on the class
**********************************************************************************************************
Origins of Mosaic and Design



Classes are listed in our studio calendar and are ongoing in 2023.

This is a 6-week class. The class sessions are typically 3 hours, once a week.

Prior Class photos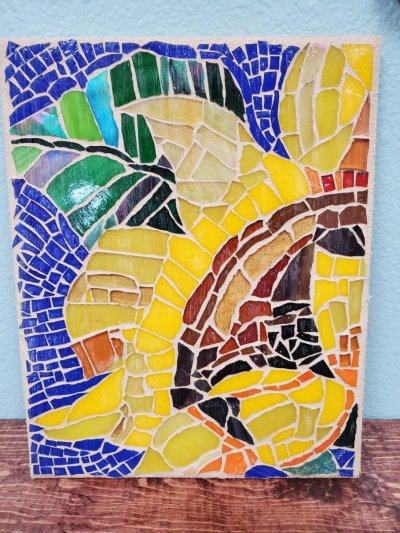 Class Info for Origins:
Launch yourself into learning the art of mosaic in this fun, creative and introductory course designed to introduce you to mosaic history, design and basic theory. Class #1 of this 6-week workshop begins with an introduction to the class teachings and lesson plan, learning some history of mosaic and getting ready for your first dive into design. Class #2 dives deeper into design concepts with a focus on creativity. Class #2 and #3 will introduce you to concepts in cutting glass for design. Class #3 and #4 will continue with workshop time on your mosaic and will offer a first taste of mosaic tools used in the art. Class #5 will be workshop time only and will focus on getting the glass portion of your project to completion. Class #6 will be the grouting day where students will learn how to grout their projects from beginning to end and students will be able to take their projects home after grouting is complete. Any additional studio sessions will be $10, the usual rate for studio time.


AM and PM classes offered ongoing or request a special class with your own group.
************************************************************************************************************************
Join in the fun on our Repeat Origins class - offered by request to students of the beginning Origins class
Nightlights
Mosaic nightlight classes are an evening of fun where you can create your own nightlight. Meet new people, hang out in the studio, and create a nightlight for yourself or for gifting!
This is usually a pm class, but we can build a class for your group any day or time!
This class is offered about once a month, so check the class calendar for info!

Class, Event, Special Hours Calendar